Kanye West Tour Dates Pop Up on His Website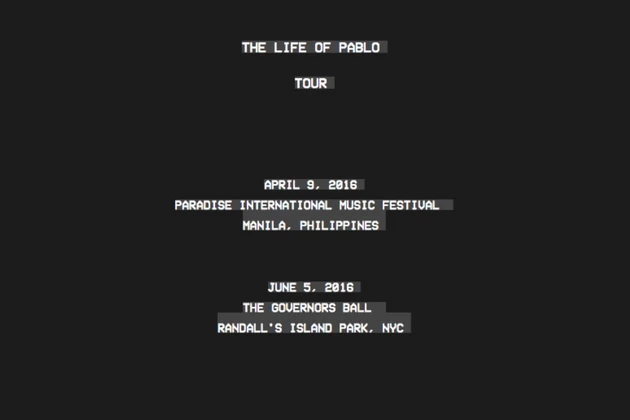 Weeks ago, rumors started to abound about Kanye West taking his new album The Life of Pablo on tour. Nothing was confirmed, but sources said Yeezy was preparing to make the journey. Now his website seems to reflect that.
If you go to kanyewest.com/tour you'll see the above text show up. It doesn't reveal much that we don't already know – both of the above festival appearances have already been announced – but it is making fans online wonder if a tour is on the verge of being announced, judging by the URL and the fact that it says "TOUR" under "THE LIFE OF PABLO."
It would certainly make sense for Kanye to tour The Life of Pablo, considering he probably hasn't made much money off it. The album was only released via TIDAL (and Kanye's own website for a short time before getting yanked), so a tour would make sense financially.
Today (March 18) is also the first day of Kanye's Pablo pop-up store in New York City. Kids have already started lining up, so if you're in the area, make sure you're ready for combat the likes of which a Supreme line has never seen before if you want to partake.
Kanye's been known for his over-the-top tours. On the Yeezus tour he had fake mountains as part of his set and would bring a fake Jesus out on the stage. He would also climb to the tip of a precipice, lay down on his back, and perform "Coldest Winter," the dedication to his mother. Truly chilling stuff.
We reached out to Kanye's rep, but they declined to comment.
See Kanye West's Recent Twitter Shenanigans
Source:
Kanye West Tour Dates Pop Up on His Website