Ed Sheeran vs. Beyonce – Pop Clash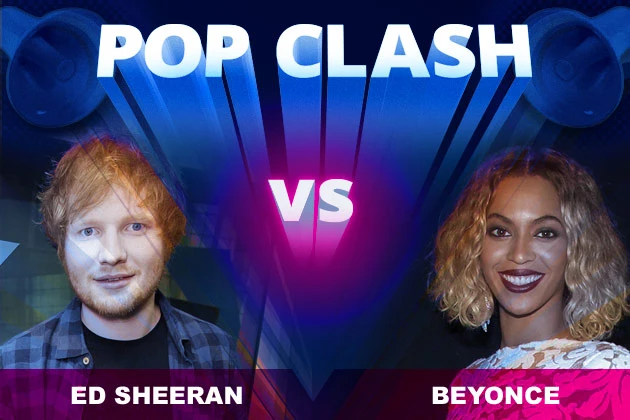 We've got an exciting new Pop Clash matchup for you: Ed Sheeran vs. Beyonce! Both singers are known for their powerful music and dedicated fans, but only one track can move on to the next round of Pop Clash. Which song should win: Ed's 'Sing' or Beyonce's 'Pretty Hurts'?
Ed Sheeran's new song 'Sing' highlights the best of his abilities. From its catchy beat to the awesome lyrics to Ed's beautiful voice, 'Sing' was an instant favorite among Sheerios. We love the sultry message — and Ed even owns a falsetto. Yep, we're pretty much obsessed with 'Sing.'
Beyonce's 'Pretty Hurts,' on the other hand, carries a much more serious message. The track focuses on society's fixation on body image. The emotional lyrics echo the struggle that many women feel to change their exterior to meet an unrealistic ideal. Beyonce's powerful voice remains steady, even as the intensity of the song deepens.
Which song should win this week's Pop Clash? You can vote for 'Sing' or 'Pretty Hurts' once an hour until the polls close on June 23 at 3PM ET.
Watch Ed Sheeran, 'Sing' Video
Watch Beyonce, 'Pretty Hurts' Video

Source:
Ed Sheeran vs. Beyonce – Pop Clash